I took a test I stole from
Vikki
, who stole it from
Megan
, who stole it from
Big Orange
, who presumably stole it from somebody else...
Here was my answer: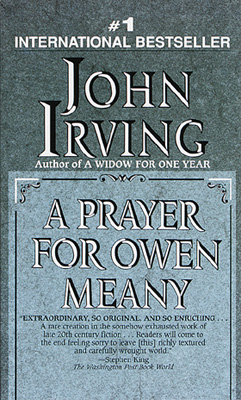 You're A Prayer for Owen Meany!

by John Irving

Despite humble and perhaps literally small beginnings, you inspire faith in almost everyone you know. You are an agent of higher powers, and you manifest this fact in mysterious and loud ways. A sense of destiny pervades your every waking moment, and you prepare with great detail for destiny fulfilled. When you speak, IT SOUNDS LIKE THIS!


Take the Book Quiz
at the Blue Pyramid.
Here's the weird thing: on New Year's Day, I was posting about
"Rants, Raves and Resolutions"
, and mentioned that I strove to read more fiction.
Flannery Aiden
kindly suggested some John Irving, including "A Prayer for Owen Meany." I actually went to the library a couple of days later with the intention of checking "Prayer" out, but all their copies were checked out. I checked out another of Flannery's suggestions, "A Son of the Circus," instead, which I'm thoroughly enjoying. Now I'm definitely going to have to go back for "A Prayer For Owen Meany."